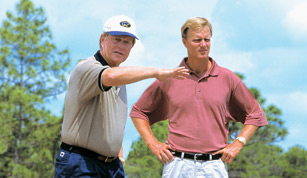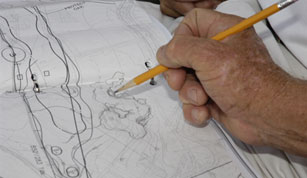 JACK NICKLAUS II
Jack Nicklaus II, the oldest of Jack and Barbara Nicklaus' five children and the father of five children himself, has followed in his father's footsteps in many ways. At one time, Jack II pursued a career in professional golf, and now he has established himself as one of the golf industry's up-and-coming course designers. In 2000, Jack II was not only awarded membership into the prestigious American Society of Golf Course Architects, but he was named to Golfweek magazine's "40 Under 40." This list featured 40 individuals under the age of 40 from the golf industry who the magazine felt would "most likely shape the game – and the business of the game – for the next 10 or 20 or 30 years." As President of Nicklaus Design, he is a member of the Palm Beach Chapter of the Young Presidents' Organization, a network of more than 8,000 young global business leaders who aspire to become "better leaders through education and idea exchange."
PERSONAL
Birthdate :September 23, 1961
Birthplace :Columbus, Ohio
Residence: North Palm Beach, Florida
College: University of North Carolina – Chapel Hill
PLAYING CAREER
After a successful collegiate career as a scholarship member of the University of North Carolina golf team, Jack Nicklaus II (Jack II) enjoyed competitive success first on the amateur circuit, winning the prestigious North-South Championship in 1985. Jack II later turned professional, playing around the world on the PGA, Canadian PGA, AustralAsian, European, Nike and Golden Bear Tours. In 2011, Jack II applied for and received his amateur status again.
DESIGN CAREER
Jack II turned his passion to golf course design in the late 1980s. After years of watching and caddying for his father, then observing his father on site or in the office while designing golf courses, Jack II began to carve his own design niche with the opening in 1991 of Hanbury Manor near London, England. He has since emerged as one of the most talented golf course designers of his generation, whether it's on solo projects or co-designs with his father Jack II, who serves as President of North Palm Beach, Florida-based Nicklaus Design, has 31 courses open for play worldwide. Of those, 15 are solo designs and 16 are co-designs with his father. All 16 co-designs have opened since 1996, including four in 1999: Superstition Mountain-Lost Gold (Superstition Mt., AZ), TwinEagles (Naples, FL), Aliso Viejo (Newport Beach, CA) and Vermont National (Burlington, VT). The celebrated February '99 opening of Estrella Mountain Ranch (Goodyear, AZ) marked Jack II's solo design debut in Arizona. In 2002, three courses involving Jack II opened for play: Pinehills Golf Club in Plymouth, Mass., and co-designs at Cherry Creek Country Club in Denver, and Flintrock Falls near Austin, Texas.
Jack II has received numerous accolades for his design work. His co-design at Aspen Glen in Carbondale, CO.,was named among the "Best New Courses for 1998" by Golf Digest. Arzaga Golf Club, a Jack II solo project in Lake Garda, Italy, was named "Best New Course in Italy" for 1998. Estrella Mountain Ranch was named on Golfweek's list of the Top 40 Daily-Fees in America, and was an Honorable Mention pick in Golf Magazine's 1999 Top 10 You Can Play. Pinehills first earned a nod in 2005 from Golfweek magazine as the No. 1 public access golf course in Massachusetts—a year after being ranked 11th among the Top 100 Public Courses in New England, which encompasses a six-state area. The course also was named to GOLF Magazine's ranking of the Top 100 You Can Play and has been recognized as one of the Top 100 Golf Communities by Travel and Leisure Golf.
Jack II has already blanketed the globe, with courses open for play in England, Japan, Indonesia and Italy. He has also represented Nicklaus Design in Massachusetts, Colorado, Texas, North Carolina, Ohio, Montana, Colorado, South Carolina, California, Vermont and Florida. Jack II has another 8 courses under construction or under design worldwide, with locations that include China, Spain, Tennessee, Oregon, California, Utah and New Hampshire. In China alone, Jack II is involved in no fewer than 10 projects under construction or under development.
Numerous Jack II designs or co-designs have hosted tour or professional events. Twin Eagles in Naples, FL., played host to the Champions Tour's ACE Group Classic from 2002-06 and served as the host venue for the 1999 Office Depot Father/Son Challenge. Jack II's Heritage Course at Ibis Golf and Country Club in West Palm Beach was one of two Nicklaus Design courses used for the LPGA's 1999 season-opening event, The Office Depot. Legacy Golf Links in Aberdeen, NC, hosted the 2000 U.S. Women's Amateur Public Links. Internationally, Hanbury Manor has hosted the English Open.
For additional information on Nicklaus Design, please visit: www.Nicklaus.com。