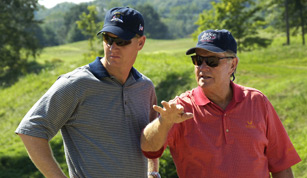 Jack Nicklaus has been designing world-class golf courses for 40 years, and his dedication to providing unparalleled golf course design services is exemplified in the quality of work that he and his design team, Nicklaus Design, consistently create and produce. This quality has set a new standard for excellence throughout Asia, particularly in the burgeoning golf market of China.
For six consecutive years, Jack Nicklaus has been named the Most Powerful Person in Golf by Golf Inc. magazine, due to his impact on various aspects of the industry through his course design work, community development, marketing and licensing business, and his involvement globally with various charitable causes.
As Asia is being celebrated as golf's new frontier and arguably the most important player in the game's future, Jack Nicklaus and Nicklaus Design is being lauded for its impact on golf's past, present and future there. For the second straight year, and the third time in seven years, Jack Nicklaus has been named Asia's "Golf Course Architect of the Year" by Asian Golf Monthly magazine. The honor was announced in October 2009 on the closing eve of the 2009 Asia Pacific Golf Summit in Kuala Lumpur, Malaysia, and capped a night during which Jack was presented the Lifetime Achievement Award before a record number of close to 500 delegates and industry leaders from around the world.
With a philosophy of designing courses that are playable, memorable and aesthetically pleasing, Nicklaus Design courses enjoy widespread recognition and acclaim, with no fewer than 63 which have been ranked in national and international Top-100 lists. Another hallmark of a Nicklaus Design courses is the design strategy and shot values, evident in the fact that 90 Nicklaus courses have hosted a professional tournament worldwide. In 2009 alone, 15 Nicklaus courses hosted a PGA Tour-sanctioned event—nine on the PGA Tour, four on the Champions Tour, and two on the Nationwide Tour. Another two play host in 2009 to events on the LPGA; four host European Tour events; and two more are played on the Canadian Tour. It was also announced in 2009 that the first full-field PGA Tour event to be played in Asia would be hosted in 2010 at the Jack Nicklaus Golf Club Korea.
With the name Nicklaus behind a golf course, its value is enhanced tremendously. And that value will only grow with time.